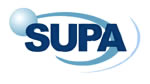 The Scottish Universities Physics Alliance (
SUPA
) is based at the James Clerk Maxwell Building in Mayfield Road - and is co-ordinating the award of the PhDs in physics at eight Scottish Universities.
So the 50 PhDs will not all be at Edinburgh University.
If you are thinking of applying, the application deadline is 25th January 2011 and you can get more details
here
.